The Eucharistic Miracles of the World
Catalogue of the Vatican International Exhibition
with a Foreword by
The (Most Rev.) Raymond Leo Burke, D.D., J.C.D.
Prefect of the Supreme Tribunal of the Apostolic Signatura
Former Archbishop of Saint Louis
With an extensive assortment of photographs and historical descriptions, the exhibition presents some of the principal Eucharistic Miracles (about 140 panels) that took place throughout the ages in various countries of the world and which have been recognized by the Church. By means of the panels, one can "virtually visit" the places where the Miracles took place.
The exhibition has already visited more than one thousand parishes in Italy and in other countries and has been translated into numerous languages.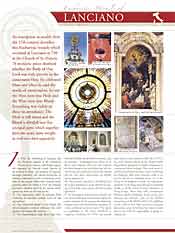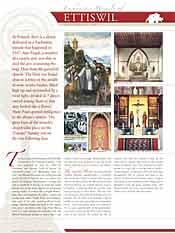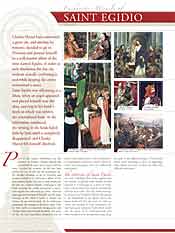 The exhibition is comprised of 142 plasticized panels (60x80 cm), made in such a way as to allow them to be hung on any surface.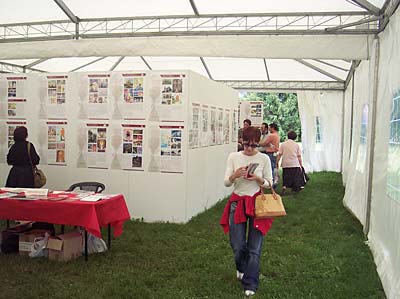 ---
In cooperation with the Pontifical Academy Cultorum Martyrum,
The Real Presence Eucharistic Education and Adoration Association has made available, in English, the Italian book by the author

Institute St. Clement I, Pope and Martyr
The Eucharistic Miracles
Of The World


---
The Vatican International Exhibition brochure and The Eucharistic Miracles of the World catalogue book are available and may be purchased from:

Eternal Life
http://www.lifeeternal.org
1-800-842-2871

If your parish or organization would like to exhibit the Church approved photographic Vatican International Exhibition of The Eucharistic Miracles of the World, please call or email us with your required basic information - name, address, telephone number, and email address. Even if you are just gathering information to present to your parish, you must still fill out the basic information.

In general, to host the exhibition you will need a DVD with special high definition PDFs to make the posters (60x80cm) which we send to you upon request after we receive your basic information. In the USA and Canada, please specify a day and time when you are available for a phone call from us.

Carol J. Seydel
Phone: 815-254-4420
miracles@therealpresence.org
---
Relevant Articles about the Eucharistic Miracles
---

Miracles by Country




Austria

Map:





---

Belgium

Map:





---

Carribean Island of Martinique

Map:

Eucharistic Miracle of the Carribean Island of Martinique - (PDF: 62k)

Morne-Rouge, 1902 - (PDF: 174k)





---

Colombia

Map:

Eucharistic Miracle of Colombia - (PDF: 139k)

Tumaco, 1906 - (PDF: 163k)





---

Croatia

Map:

Eucharistic Miracle of Croatia - (PDF: 101k)

Ludbreg, 1411 (part 1) - (PDF: 165k)
Ludbreg, 1411 (part 2) - (PDF: 283k)





---

Egypt

Map:

Eucharistic Miracles of Egypt - (PDF: 97k)

Jordan / Arabian Desert - St. Mary of Egypt, 6th Century - (PDF: 195k)

Scete, 3rd – 5th Century - (PDF: 173k)





---

France

Map:





---

Germany

Map:





---

India

Map:

Eucharistic Miracle of India - (PDF: 80k)

Chirattakonam, 2001 - (PDF: 148k)





---

Island of La Réunion

Map:

Eucharistic Miracle of the Island of La Réunion - (PDF: 71k)

Saint-André de la Réunion, 1902 - (PDF: 145k)





---

Italy

Map:





---

Netherlands

Map:





---

Perù

Map:

Eucharistic Miracle of Perù - (PDF: 60k)

Eten, 1649 – (PDF: 182k)





---

Poland

Map:





---

Portugal

Map:

Eucharistic Miracle of Portugal - (PDF: 82k)

Santarém, 1247 (part 1) – (PDF: 167k)
Santarém, 1247 (part 2) – (PDF: 209k)





---

Spain

Map:





---

Switzerland

Map:

Eucharistic Miracle of Switzerland - (PDF: 73k)

Ettiswil, 1447 – (PDF: 151k)





---

Saints, Mystics and the Eucharist





---

Our Lady and the Eucharist





---

Miraculous Communions

Miraculous Communions (part 1) - (PDF: 177k)

Blessed Emilia Bicchieri
Blessed Imelda Lambertini
Blessed James of Montieri
Blessed Thomas of Cori
Saint Bernard
Saint Bonaventure
Saint Gerard Magella
Saint Jerome
Saint Juliana Falconieri
Saint Lucia Filippini
Saint Maria Francesco of the Five Wounds
Saint Secondo

Miraculous Communions (part 2) - (PDF: 153k)

Blessed Angela of Foligno
Saint Agnes Segni
Saint Clare Montefalco
Saint Frances of Rome
Saint Gregory the Great
Saint Teresa of Avila





---

Miracles Maps

Europe - (PDF: 211k)

Spain and France - (PDF: 227k)