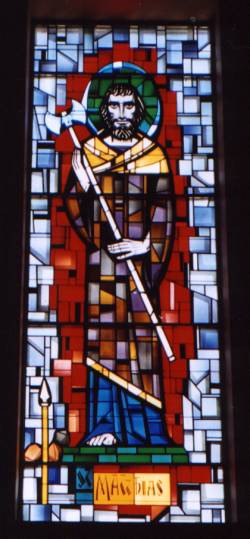 Jesus Christ arose from the dead and remained upon earth in visible form for forty days. On the fortieth day, He ascended into heaven. As described by St. Luke, Jesus had just finished telling His disciples they would receive the power of the Holy Spirit:
When He had said these things, while they looked on, He was raised up. And a cloud received Him out of their sight. And while they were beholding Him going up to heaven, behold two men stood by them in white garments. They said, "You men of Galilee, why do you stand looking up to heaven? This Jesus who is taken up from you into heaven will come as you have seen Him going up to heaven" (Acts 1:9-11).
Christ's ascension into heaven was a historical event. He actually did leave the earth and was physically seen to ascend into the heavens. However, the "heavens" to which he went were not the "corporeal heavens" of sun, moon, and stars. When St. Paul says that "He ascended above the heavens" (Ephesians 4:10), this meant not only above the stellar regions but even above all "spiritual heavens." Christ's place in heaven is above all the angels and saints. He ascended even to the Throne of God the Father. He is now at the Father's "right hand in the heavenly places. He is above all principality and power, and virtue and dominion, and every name that is named not only in this world but also in that which is to come" (Ephesians 1:20-21).
The expression "right hand" is not to be taken literally but symbolically, when we speak of God. Christ as God is said to sit at the right hand of the Father because He is equal with the Father. As man, He is seated at the Father's "right hand" as being closest to God in the possession of the highest perfection possible for a created nature. This is what the devil craved when he said, "I will ascend into heaven. I will exalt my throne above the stars…I will be like the most high" (Isaiah 14:13-14). But Christ alone rose to that height. This is what He meant when He applied to Himself the messianic prophecy of David: "The Lord said to my Lord: 'Sit at my right hand'"(Psalm 109:1).
Why the Ascension? The Church tells us that Christ ascended into heaven, because heaven was due to Him according to His Divine nature. It is natural for something to return to the place of its origin. Christ drew His origin from God who is above all. No doubt the saints are also in heaven, but they did not reach there as Christ did. He ascended by His own power, whereas the saints are taken to heaven by the power of Christ.
Moreover, heaven was due to Christ as the fruit of His victory. He was sent by the Father into the world in order to overcome the devil, and He overcame the prince of this world. That is why He merited to be exalted above all things, and promises us a share in His exaltation, provided that like Him – and with His grace – we too overcome the evil spirit. "To him that shall overcome," He tells us, "I will give to sit with me on my throne; as also I have overcome, and am set down with my Father on His throne" (Revelation 3:21).
Finally, Christ's ascension was the reward of His humility. Since there was no one more humble than Christ, He deserved to be more elevated than anyone else. Although He was God, He chose to become man. And though He was the Lord of all, He chose to become a servant and become obedient unto death, even to death on the Cross. He therefore merited to be raised to the heights of heaven. Why? Because humility is the road to exaltation.
Lessons of the Ascension. Every mystery of the faith is meant to teach us something. The Ascension is no exception.
Because of Christ's ascension, our faith in Him as our Leader and Guide is strengthened. During His mortal stay on earth He taught us how we should live, so that, like Him, we too might reach heaven. He told us, "I go to prepare a place for you" (John 14:2). We shall see Him in heavenly glory provided we have been willing to suffer like Him, even in rejection and being ignored.
Our Lord's ascension should strengthen our trust in His power of interceding for us with the eternal Father. This is what we mean by Christ's everlasting priesthood, "whereby He is able to save forever those who come to God by Him. He is always living to make intercession for us" (Hebrews 7:25).
The Ascension of Christ is a powerful motive for loving Him. We were made by God out of nothing, but we are destined to possess the Living God in our human, bodily form, if only we learn to despise temporal things. St. Paul warns us: "If you be risen with Christ, seek the things that are above, where Christ is sitting at the right hand of God. Mind the things that are above, not the things that are upon the earth" (Colossians 3:1-2). The cost of giving up earthly pleasures may seem to be high. But it is more than worth the effort as we look up to Christ waiting for us to join Him in our eternal home.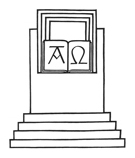 Copyright © 2002 Inter Mirifica
Pocket Catholic Catechism